Dopethrone - "Host" / Fister - "The Failure" (2016)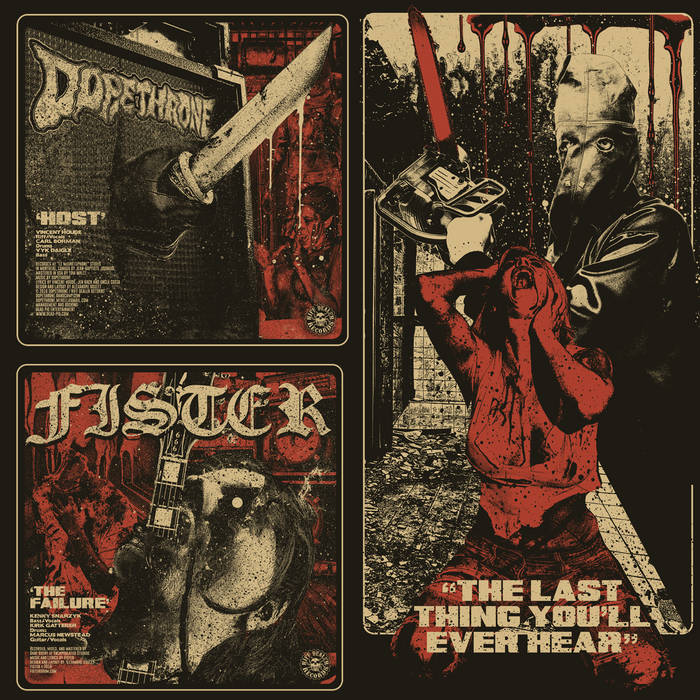 Horror movies, fittingly, drench the cover art for the new split between Dopethrone and Fister. This stellar cover was designed by Alexandre Goulet and promises to be "the last thing you ever hear" as the clenched knife comes out of a speaker for Dopethrone and an execution by a guitar driven through the mouth and neck of a man for Fister. We're in for a Hell of a ride.
Dopethrone took on a huge responsibility by naming themselves off what many to be the quintessential doom metal album by Electric Wizard. They've always knocked it out of the damn park. Their track "Host" begins with a field recording layered deep within vicious guitars and black metal vocals by Vincent as they flow recklessly with the bass of Vyk. The only thing holding everything together is the powerful and precise drumming of Carl. The grooves are a rowdy fuzz filled carousal that only become less tangible with each listen. I swear there are ghosts in this track.
Fister delivers their signature take on black metal on "The Failure" with upped aggression the likes of which their home state of Missouri has never seen before. Marcus Newstand is a powerhouse vocalist, and guitarist, who carries his shrieked vocals and layers them so much it's dizzying. Marcus draws out each word so much I have to imagine he's just hoarse almost to the point of coughing up blood at the end of each session. Nearing the middle of the track the bass of Kenny Snarzyk, who normally splits vocal duties with Marcus, and the drumming of Kirk Gatterer slow dramatically into an almost funeral doom paced clashing with pure sludge that marches along until the song slowly dissipates into nothing.
A vinyl release is slated for later this year by Riff Dealer Records.
~Richard
For Fans Of: Behexen, Mayhem, Electric Wizard, Leviathon, Xasthur
~